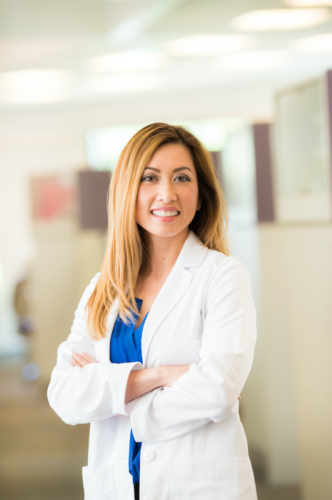 Dr. Loan Huynh, also known as "Dr. Lindsey" here at Thompson Center for Dentistry, is an experienced dentist who offers a range of dental services at our practice. Dr. Lindsey believes in a conservative approach to dentistry that can provide patients with minimally-invasive treatment and a more comfortable experience as often as possible. She also believes in treating patients as an extension of her own family, getting to know them and providing an atmosphere that yields a relaxing, even fun environment. While Dr. Lindsey is proficient in a comprehensive array of dental procedures, she particularly enjoys cosmetic dentistry because of the joy and transformation it can bring to so many individuals.
Background
Dr. Lindsey grew up in Arizona and moved to California in 2005 to attend dental school. Her interest in dentistry was sparked when she was a teenager, after she obtained orthodontic treatment that transformed her smile. Dr. Lindsey eventually became a Dental Assistant, which solidified her desire to be a dentist.
Education
Dr. Lindsey has obtained her educational credentials from prestigious institutions such as:
University of Southern California School of Dentistry – 2009; Dean's List
Arizona State University – B.S. in Biology, 2002; Summa Cum Laude
She is also fully committed to the pursuit of continuing dental education, which enables her to provide patients with some of the latest treatment techniques. Dr. Lindsey attends various continuing education courses in all areas of dentistry to keep up with new advancements and technologies.
One of the things that Dr. Lindsey says she enjoys most about working at Thompson Center of Dentistry is the constant clinical and academic growth she is able to achieve with the advancing research and technology embraced by our practice. "We are encouraged to learn and utilize techniques learned from courses and research that is the most optimal for our patients. We continually purchase and utilize new technology that most dental offices do not have in order to provide the best care."
Memberships
Seattle Study Club
Marina Bay Study Club
Punjabi Dental Society
In addition to her thriving career in dentistry, Dr. Lindsey is happily married and enjoys Pilates and running in her free time.
If you would like to learn more about our dentists and the treatments available here at Thompson Center for Dentistry, please contact us today.