Missing Tooth Replacement
With the revolutionary advances that have been made in restorative dentistry over the last few decades, missing teeth can now be replaced with results that are virtually indistinguishable from natural teeth. Dental implants can be excellent options for patients who have a single missing tooth or multiple missing teeth. Our cosmetic dentist, Dr. Uyen Thompson, and her dental team at Thompson Center for Dentistry offer full, comprehensive dental implant procedures that can be performed right here at our practice.
What are Dental Implants?
Composed of a titanium post and a custom dental crown, a dental implant is designed to replace a missing tooth by mimicking a natural tooth root. The implant is anchored to the jawbone, where it should ultimately fuse to the bone and become a permanent part of your mouth. Dental implants offer extraordinary stability and can dramatically improve both the look and function of your teeth. In fact dental implants are so similar to actual teeth that it may be challenging to tell them apart from your original teeth.
What are the Benefits of Dental Implants?
Benefits of dental implants include:
Speaking and chewing with comfort and confidence
The results are designed to be permanent
Tooth stability – implants will not move or slip along the gums
Easy to maintain through normal brushing and flossing
They are designed to look, act, and feel like natural teeth
Dental implants can be performed as a stand-alone procedure or be part of a full-mouth rehabilitation from our experienced dentists.
Who is a Candidate for Dental Implants?
Our experienced dentist will thoroughly evaluate your oral structures during the initial consultation and determine whether you are a good candidate for dental implants. If that is not the case, we can talk with you about advanced alternatives (such as implant-supported dentures or traditional dentures) at our practice that can help you address your concerns.
What are my dental implant options?

Whether you are missing a single tooth or a full row of teeth, dental implants can be utilized in a number of circumstances. Options include:
Single Tooth Implants
A dental implant can be used to replace a single missing tooth anywhere in the mouth. This can be particularly beneficial for the prevention of bone loss in the area of the lost tooth, which can ultimately have an effect on overall oral health.
Multiple Teeth Dental Implants
Patients who have several missing teeth and those who are missing all of their teeth on the upper and/or lower arches can often replace them with dental implants. This procedure can dramatically improve oral function, smile aesthetics, and the ability to speak and chew. Multiple teeth dental implants offer a strong, stable, and natural-looking solution that can enhance one's appearance and livelihood.
Implant-Supported Dentures
Implant-supported dentures can be an excellent alternative for patients who may not be candidates for full sets of dental implants. This option typically utilizes just a few strategically placed implants to provide a stable foundation for denture appliances. Implant-supported dentures can significantly reduce the potential for dentures to slip along the gums, and they eliminate the need for denture pastes and adhesives.
Learn more about implant-supported dentures.
Surgically Guided Implants – 3D Cone Beam Technology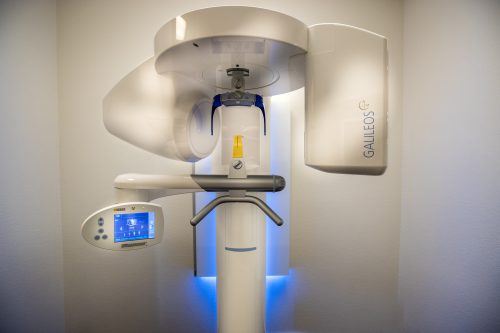 The planning stages of dental implant procedures are important components of the treatment. That's why we utilize 3D CT scanning and planning technology to create an intricate surgical guide for the placement of dental implants. This system allows our dentist to obtain a 360-degree view of your entire mouth, including the teeth, gums, and jaw area. Once the comprehensive scan of your oral structures has been produced, we use 3-Dimensional implant planning software to create a detailed plan that pinpoints the precise angle and location the implant should be placed. With this guide, our dentist can take the "guesswork" out of the process and plan the placement of the implant with a greater degree of accuracy.
How is the Dental Implant Procedure Performed?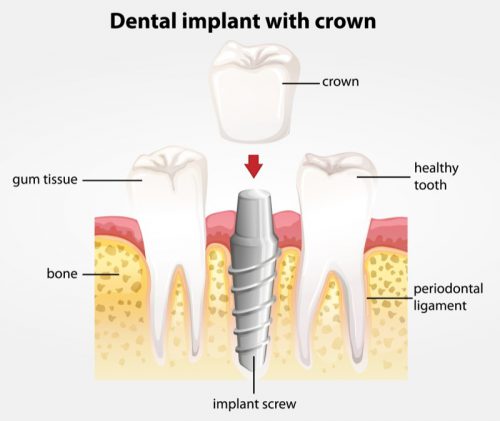 After the x-ray images have been taken and the surgical guide has been created, our dentist will place the dental implant in the area of the missing tooth. The implant itself is a durable titanium post that will be inserted inside the gum and anchored to the jawbone. Over the next few months, the implant should fuse to the bone. A temporary crown can be affixed to the post during this period. Once the fusion process is complete, our dentist will have a custom-designed dental crown ready to place on top of it. The crown will be secured to the post with a strong cement, and it will be color-tinted and polished so that it provides a virtually seamless blend with surrounding teeth. The results should look and feel so natural that it may be a challenge to tell the artificial tooth apart from your natural teeth!
How Much do Dental Implants Cost?
The total price of dental implants varies from patient to patient, depending on each individual's unique treatment plan. A number of factors go into the overall cost of dental implant procedures, including the number of implants being placed, the complexity of the treatment, the experience of the dentist, the geographic location of the practice, materials used, and other components. In general, the dental implant itself can range between $1,000 and $3,000; however, as noted above, the total cost will be determined based on various elements included in the patient's treatment process. The dental professionals at Thompson Center for Dentistry believe that everyone deserves to have the highest-quality care, regardless of their financial situation. That is why we accept a broad range of payment methods and work with reputable dental financing companies like CareCredit®, which offers low- and no-interest payment plans to qualified applicants who would like to pay for their dental implant procedure over time. Once your customized treatment plan has been developed, a member of our team will produce an estimate of the total cost and talk with you about your options.
If you are considering your options to replace missing teeth, we encourage you to contact Thompson Center for Dentistry. We will be happy to answer any questions you may have or assist you with scheduling a consultation at our practice.