Missing Tooth Replacement
With the revolutionary advances that have been made in restorative dentistry over the last few decades, missing teeth can now be replaced with results that are virtually indistinguishable from natural teeth. Dental implants can be excellent options for patients who have a single missing tooth or multiple missing teeth. Our cosmetic dentist, Dr. Uyen Thompson, and her dental team at Thompson Center for Dentistry offer full, comprehensive dental implant procedures that can be performed right here at our practice.
What are Dental Implants?
Composed of a titanium post and a custom dental crown, a dental implant is designed to replace a missing tooth by mimicking a natural tooth. The implant is anchored to the jawbone, where it should ultimately fuse to the bone and become a permanent part of your mouth. Dental implants offer extraordinary stability and can dramatically improve both the look and function of your teeth. In fact dental implants are so similar to actual teeth that it may be challenging to tell them apart from your original teeth.
What are the Benefits of Dental Implants?
Benefits of dental implants include: 
Speaking and chewing with comfort and confidence
The results are designed to be permanent
Tooth stability – implants will not move or slip along the gums
Easy to maintain through normal brushing and flossing
They are designed to look, act, and feel like natural teeth 
Dental implants can be performed as a stand-alone procedure or be part of a full-mouth rehabilitation from our experienced dentists.
Who is a Candidate for Dental Implants?
Our experienced dentist will thoroughly evaluate your oral structures during the initial consultation and determine whether you are a good candidate for dental implants. If that is not the case, we can talk with you about advanced alternatives (such as implant-supported dentures or traditional dentures) at our practice that can help you address your concerns.
Surgically Guided Implants - 3D Cone Beam Technology
The planning stages of dental implant procedures are important components of the treatment. That's why we utilize 3D Cone Beam CT scanning technology and merge the data with an advanced iTero® digital scan to create an intricate surgical guide for the placement of dental implants. This system allows our dentist to obtain a 360-degree view of your entire mouth, including the teeth, gums, and jaw area. Once the comprehensive scan of your oral structures has been produced, we use 3-Dimensional implant planning software to create a detailed plan that pinpoints the precise angle and location the implant should be placed. The entire implant planning process is done digitally, and a surgical guide is printed out through our 3d printer. With this guide, our dentist can take the "guesswork" out of the process and plan the placement of the implant with a greater degree of accuracy.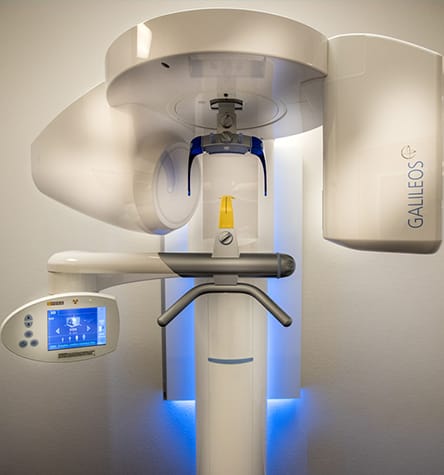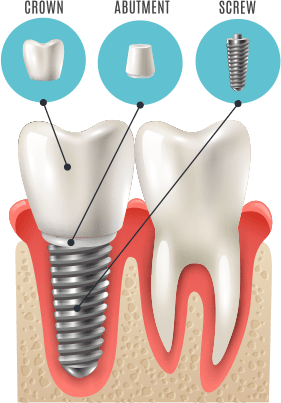 How is the Dental Implant Procedure Performed?
After the x-ray images have been taken and the surgical guide has been created, our dentist will place the dental implant in the area of the missing tooth. The implant itself is a durable titanium post that will be inserted inside the gum and anchored to the jawbone. Over the next few months, the implant should fuse to the bone. A temporary crown can be affixed to the post during this period. Once the fusion process is complete, our dentist will have a custom-designed dental crown ready to place on top of it. The crown will be secured to the post with a strong cement, and it will be color-tinted and polished so that it provides a virtually seamless blend with surrounding teeth. The results will look and feel so natural that it may be a challenge to tell the implant tooth apart from your natural teeth!
How Long do Dental Implants Last?
The potential length of results for dental implants is one of the most prominent benefits of the treatment. Since they are designed to become a permanent part of your mouth, dental implants can last a lifetime with the proper care. As long as dental implants are placed by experienced and extensively trained dental professionals, in addition to good at-home dental hygiene routines and regular check-ups, dental implants can keep your smile looking beautiful for many years to come!
What Types of Dental Implants are Available?
While all dental implants essentially serve the same purpose, some aspects of dental implants make them distinct from one another. The primary type of implant we use here at Thompson Center for Dentistry is called an endosteal dental implant, which is placed directly into the jawbone. Endosteal dental implants come in different sizes and heights. The best size and height for your particular needs will be determined once your oral structures have been examined and x-rays have been taken. These attributes are important in terms of correctly positioning the implant and anchoring it to the jawbone in such a way that the implant fits the area as naturally as possible. 
Our dentist will explain all aspects of dental implants during your initial consultation and decide the best type of implant for your unique needs.
Are Dental Implants Safe?
Since these treatments involve oral surgery, it is important to note that all surgical procedures involve certain risk factors. With this in mind, Dr. Thompson utilizes state-of-the-art planning technology and takes extensive precautions during treatment to maximize the safety of dental implant procedures. These precautions include measures to limit the possibility of implant failure, infection, or other potential complications, however rare they may be. Dr. Thompson will also provide you with precise post-operative instructions that can help to ensure a safe recovery and successful, long-lasting results.
Are There Alternatives to Dental Implants?
In cases where an individual is not the best candidate for dental implants, or in situations where one would simply like to explore other missing teeth replacement options, there are many advanced alternatives that can provide effective solutions. Our practice offers a full range of restorative treatments that may be ideal procedures for the right patient. Options include implant dentures, All-On-4® Teeth in a Day, complete and partial dentures, and dental bridges. 
With our comprehensive selection of procedures designed to replace missing teeth, Dr. Thompson and her team can help you find the best option for your needs and goals.
How Much do Dental Implants Cost?
The total price of dental implants varies from patient to patient, depending on each individual's unique treatment plan. A number of factors go into the overall cost of dental implant procedures, including the number of implants being placed, the complexity of the treatment, the experience of the dentist, the geographic location of the practice, materials used, and other components. The dental professionals at Thompson Center for Dentistry believe that everyone deserves to have the highest-quality care, regardless of their financial situation. That is why we accept a broad range of payment methods and work with reputable dental financing companies like CareCredit® and LendingClub®, which offer low- and no-interest payment plans to qualified applicants who would like to pay for their dental implant procedure over time. Once your customized treatment plan has been developed, a member of our team will produce an estimate of the total cost and talk with you about your options.
How do I Choose the Right Implant Dentist?
The first step in the process of obtaining dental implants is arguably the most important one: choosing your implant dentist. Replacing missing teeth with dental implants requires extraordinary precision and accuracy in order to provide long-lasting results that look, function, and feel as natural as possible. With this in mind, the dentist you choose should have impeccable credentials and extensive training and experience with this procedure. As you are conducting your research into prospective dentists, be sure to scrutinize their biography to learn about their history with dental implantation. Is the dentist a member of any organizations that focus on implant dentistry? Does the dentist's educational history include any special training in oral implantology? If not, does the dentist employ an oral surgeon or prosthodontist at the practice? Or do they refer dental implant patients to another practice for implantation? Some of these questions may be available on the practice's website; however, even if this is the case, it's important to schedule an in-person consultation with the dentist you are considering. Having a conversation with the dentist can help you get a fuller understanding of their experience and how confident you feel in their care. 
Dr. Uyen Thompson offers comprehensive dental implant treatment right here at Thompson Center for Dentistry. She earned her fellowship from the International Congress of Oral Implantologists and she earned a Master of Implantology at the California Implant Institute. Dr. Thompson will be more than happy to answer any questions you may have about her educational background and experience with this procedure, and she will thoroughly explain the treatment process and how dental implants may benefit your needs.
If you are considering your options to replace missing teeth, we encourage you to contact Thompson Center for Dentistry. A member of our team can address any concerns you may have or assist you with scheduling a consultation at our practice. 
Additional Frequently Asked Questions About Dental Implants
Are dental implants covered by insurance?
Some dental insurance policies may offer at least partial coverage for dental implant procedures. A member of our team here at Thompson Center for Dentistry can help with questions about insurance coverage for this treatment.
 
Do dental implants look natural?
The ability of dental implants to look, feel, and function like natural teeth is one of the many benefits of this popular treatment. In fact, many patients find the results to be virtually identical to natural teeth.
How do I clean dental implants?
Cleaning dental implants involves the same basic process used to clean natural teeth. Aside from daily brushing and flossing, as well as attending the recommended amount of dental visits each year, there is no extra maintenance required.
 
How long does it take to get dental implants?
After the dental implants are placed, a process called "osseointegration" will begin. This is the process by which the implants should fuse to the jawbone, effectively becoming a part of the mouth, much like natural tooth roots. Osseointegration typically takes several months before it is complete; however, temporary crowns can  be placed on the implant posts during this time. Once Dr. Thompson has determined that the implants have successfully fused to the bone, she will affix the permanent custom dental crowns to the implant posts. Dr. Thompson will carefully examine the implants and crowns to make sure they fit comfortably, function like natural teeth, and meet your overall expectations.
Does smoking affect dental implants?
Smoking can have a significant effect on dental implants. Not only can smoking dramatically increase the risk of infection, but it can also extend the healing process. Given these risks, along with previous research that has found a possible link between smoking and implant failure, we recommend that patients stop smoking a minimum of one month before the dental implant procedure is scheduled. We also advise that patients develop a plan to ensure they do not resume smoking after the implants are placed.