With the comprehensive range of treatment options available from Thompson Center for Dentistry, we can help you or your child address a number of common orthodontic issues. Whether you are concerned about teeth misalignment, crowding, or bite irregularities that may be affecting both the appearance and function of your teeth, our team is extensively trained in some of the most advanced techniques to correct orthodontic problems with beautiful results.
What is Orthodontics?
Orthodontics is a field of dentistry which focuses on movement of the teeth, bite alignment, and jaw position. When the teeth, bite, and jaws are not aligned properly, individuals can experience a number of functional and aesthetic issues that have an effect on their livelihood as well as their self-esteem. With advanced orthodontic techniques, teeth that appear crooked, misaligned, or crowded can be moved into a straighter, more even position. Orthodontics can also help patients affected by overbite, underbite, crossbite, and other malocclusion conditions. The field of orthodontics has seen many unique innovations over the years, allowing patients of all ages to address their orthodontic concerns in more discreet, effective, and comfortable ways.
Family Orthodontics
Here at Thompson Center for Dentistry, we offer state-of-the-art orthodontic solutions for the entire family. Whether you are considering orthodontic treatment for your child or for yourself, our practice can help you meet your needs with the latest treatment options and results that give you new reasons to smile!
Child and Early-Phase Orthodontics
Children should typically be taken for an orthodontic evaluation by the time they reach 7 years of age. Early-phase orthodontics can be very important when it comes to identifying and treating any problems or issues that could become serious later in life, requiring invasive dental treatment to correct. With orthodontic treatment in your child's early development, there is a greater chance that incoming permanent teeth will have the necessary room to grow into a good position. Even if it looks like your child's teeth are coming in perfectly, it's always good to schedule an orthodontic evaluation just to rule out the possibility of subtle problems that may not be immediately noticeable. If everything looks good, periodic check-ups will be recommended to monitor jaw growth and the progress of developing teeth. If orthodontic concerns are identified, our 
dentist
will talk with you about the many advanced procedures we perform that can successfully address teeth alignment and bite issues.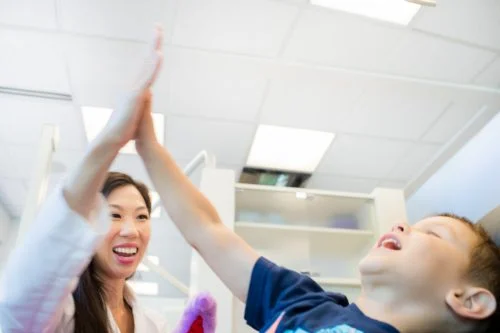 Adult Orthodontics
While orthodontic treatments are often associated with adolescents, the fact is that a large and growing percentage of adults are opting to correct orthodontic problems as well. One of the reasons for this is likely because of the many new types of orthodontic treatment available that can resolve lifelong functional and aesthetic issues utilizing more discreet and comfortable techniques. With clear and ceramic braces, clear plastic teeth aligners, and other innovative modalities, adults can achieve straighter teeth and an improved bite without concern about how their smile will look during treatment.
There are many similarities between orthodontic treatment for children and adults, but there is one significant difference: the teeth and jaws in an adult are already fully developed. With that in mind, treatment may take a bit longer to achieve optimal results; however, the length of treatment greatly depends on each individual's needs and goals, the complexity of their orthodontic concerns, and other factors. Many adult patients can attain exceptional outcomes more discreetly and comfortably than ever before, without experiencing treatment periods that are excessively longer than the normal range. Our dentist will be happy to meet with you for an initial consultation and oral evaluation to discuss your needs and talk with you about the many types of treatment available that can provide the best results without disrupting your lifestyle.
Please contact Thompson Center for Dentistry with any questions you may have, or to schedule a consultation. We will be happy to evaluate your needs and create an orthodontic treatment plan designed to bring you a beautiful new smile!