A bright, gleaming smile can have a positive effect on your overall appearance, and ultimately help you feel more confident about the way you look. If you have begun to notice signs of yellowing and staining on your teeth – a natural condition that happens to many of us over time – there are advanced teeth whitening options available from our cosmetic dentist, Dr. Uyen Thompson, and our dental team at Thompson Center for Dentistry that can help you address these concerns. With state-of-the-art whitening treatments, we can improve the appearance of your teeth and give you the smile that lights up the room!
Benefits of Teeth Whitening
Professional teeth whitening treatments can give your teeth a whiter, more refreshed appearance. These popular procedures are supervised by our experienced cosmetic dentist to ensure you obtain the best possible results. In-office teeth whitening treatments use strong bleaching agents and high-quality solutions to effectively address stains and discoloration caused by a number of factors, including:
Consumption of coffee, wine, and tea
Use of tobacco products
The natural aging process
Once you come in for your initial oral evaluation and consultation, Dr. Thompson will talk with you about your options and determine whether teeth whitening can help you meet your goals. In cases of excessively dark and deep-set stains, porcelain veneers can often serve as an effective alternative.
The In-Office Zoom!® Teeth Whitening Procedure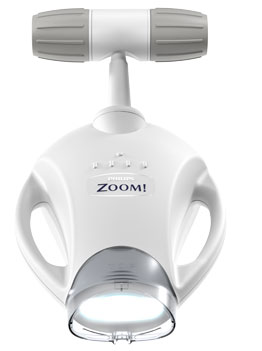 Our in-office whitening treatments begin with the application of a strong whitening gel along your teeth. A special light will then be held over the teeth, which activates the gel and allows the oxygen to penetrate through the enamel and dentin, reducing stains along the way. Once this is accomplished, the teeth should take on a whiter, more refreshed appearance. The entire procedure typically takes only about one hour to complete, and the results should be noticeable almost immediately.
After your treatment, you will be given a set of Zoom!® take-home whitening trays to help you maintain the results and keep your teeth looking fresh and bright for as long as possible.
Do you have questions about our teeth whitening treatments? Please contact us today for more information, or to schedule a consultation at Thompson Center for Dentistry. We look forward to hearing from you!