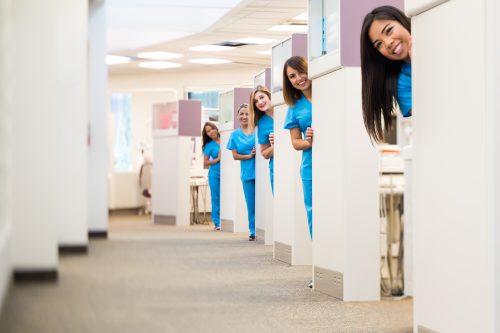 One of our top priorities here at Thompson Center for Dentistry is to make our patients feel as comfortable as possible. We understand that, for many people, the prospect of having dental treatment makes them very anxious. In fact, a large number of people in the U.S. avoid visiting the dentist altogether because they are too nervous about what the treatment will entail. Without regular dental care, problems that were small can become much bigger, leading to major dental issues and even heightening risks to an individual's overall health. With that in mind, our practice offers advanced sedation dentistry options to help patients with dental anxiety ease their fears and enjoy a more relaxed treatment. Our experienced cosmetic dentist, Dr. Uyen Thompson, and her skilled dental team can help you attain the dental care you need while making your experience a more comfortable – even pleasant – experience.
I felt very at ease despite my dentist phobia. I need some drastic treatment and Dr. Thompson and her staff went the extra mile to meet my medical and dental needs on virtually no notice. I feel confident in the entire staff to make my treatment as pleasant as possible.
Gerry Goham

Baja Fatty

June 16, 2020
What is oral conscious sedation?
Thompson Center for Dentistry utilizes an advanced, non-invasive sedation technique that can help you overcome dental anxiety. Oral conscious sedation involves the taking of a small pill about an hour before your dental treatment. Once your procedure begins, you should be in a deep state of relaxation. The pill should not cause you to fall totally asleep. In fact, you should be alert enough to communicate with our dental team at all times; however, the pill should make you feel so relaxed that you do not experience pain or discomfort during the procedure. Once the treatment is complete, you may not even remember that it was performed at all.
A member of our team will be monitoring your vital signs during the entire procedure to ensure that everything is running smoothly. It's important to note that the effects of oral conscious sedation dentistry will not completely wear off until several hours after your treatment, so you will need to arrange for someone to bring you to and from the office on the day of your procedure.
During your initial consultation here at Thompson Center for Dentistry, one of our dentists will talk with you about any concerns and anxieties you may have. If you would like oral conscious sedation during your procedure, our dentist will evaluate your medical history and determine whether this option is right for your unique needs.
With oral conscious sedation, you don't have to let fear of the dentist keep you from getting necessary dental care! Please contact us today with any questions you may have about sedation dentistry, or to schedule an appointment with one of our experienced dentists.