Your First Visit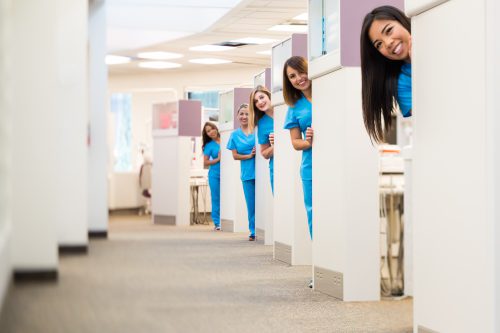 During your first visit, one of our experienced dentists will give you a thorough oral exam and check the condition of your teeth and gums. In most cases, our dental hygienist will also perform an advanced dental cleaning to reduce plaque and bacteria that your toothbrush can't reach. This will also give your teeth a nice polish so they appear healthy and refreshed.
Dental hygiene is incredibly important, and providing comprehensive cleanings, infection control measures, and preventive dental care options can help you maintain healthy teeth and gums for years to come!
The head of our practice, Dr. Uyen Thompson, and her dental team are extensively trained and experienced with a full range of dental procedures and techniques. We concentrate on providing patients with not only effective treatment, but also a convenient visit to our practice. That's why we have endeavored to develop a practice that can serve virtually all your dental needs right here under one roof. We rarely need to refer out to other offices. At Thompson Center for Dentistry, we offer comprehensive dental care options including general and preventive care, cosmetic dentistry, restorative dentistry, dental implant procedures, orthodontic treatments, and advanced care options such as sedation techniques and treatment for sleep apnea. We treat patients of all ages and we provide a fun and educational environment for children.
Amenities
Thompson Center for Dentistry makes comfort a high priority for all of our patients. To help you relax throughout your visit with us, we provide blankets, neck pillows, and beverages at your request. Many of our treatment rooms are equipped with TVs and headphones so you can focus on something else during your procedure.
Learn more about the unique experience you can expect at Thompson Center for Dentistry.
If you would like more information, or if you would like to schedule your first appointment at Thompson Center for Dentistry, please contact us today. A friendly member of our team looks forward to assisting you with any questions you may have.
Post Operative Instructions