Traditional braces offer an effective way for both adults and adolescents to correct an array of orthodontic conditions and attain a beautiful new smile! Our cosmetic dentist in Chula Vista, Dr. Uyen Thompson, is a member of the International Association for Orthodontics and is extensively skilled with orthodontic treatments that can address teeth misalignment, bite irregularities, and other concerns. With advanced braces treatment from Thompson Center for Dentistry, our team can help you straighten your teeth and smile with confidence.
What Concerns Can Braces Treat?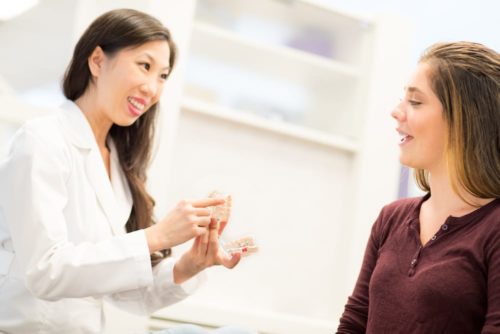 Braces can be an ideal treatment option for an array of mild to severe orthodontic concerns, including:
Spaces and gaps between the teeth
Teeth that are crowded or "bunched up" too close together in certain areas
Teeth that appear "crooked"
Bite irregularities such as overbite, underbite, crossbite, and others
Dr. Thompson can perform an examination of your teeth and oral structures to determine whether braces offer the best option to help you address your concerns. If so, she will create a personalized treatment plan designed to meet your goals.
How Do Braces Work?
Traditional braces utilize a series of brackets and wires to gradually reposition the teeth. A small bracket is affixed to the front of each tooth, and a thin wire is threaded through the brackets. Small elastic bands are often utilized to provide a secure fit between the wires and the brackets. This technique allows the teeth to move into the desired position, ultimately creating better alignment. Braces are designed to reduce open spaces between teeth, create more room between crowded teeth, correct bite irregularities, and generally give the teeth a straighter appearance.
How Long Does Braces Treatment Last?
The length of time that the braces will need to remain on the teeth is highly variable among patients. Some individuals may need to wear them for a period of several months, others may require the braces to stay on for up to three years. The duration of treatment will be based on the severity of the orthodontic concerns and each patient's ultimate goals for treatment. Once you meet with Dr. Thompson for your initial oral evaluation, she can give you a better idea of how long the treatment may take in order to provide you with the best possible results.
Are There Alternatives to Braces?
For patients who would like to consider other orthodontic treatment options that can be suitable for their needs, Invisalign® may serve as an ideal solution. Invisalign® offers an innovative alternative to braces that can meet many of the same goals but does not require the use of brackets and wires. In fact, Invisalign® uses a system of clear, removable aligners designed to discreetly improve teeth alignment and correct signs of gaps, crowding, and even bite irregularities such as overbite and crossbite. Our practice offers both the standard Invisalign® treatment as well as Invisalign Teen® for adolescent patients. While braces may be a better option for patients who have severe or highly complex orthodontic concerns, Invisalign® can often be very effective for mild to moderate teeth misalignment.
In some cases, porcelain veneers can also serve as a good alternative to braces. Porcelain veneers are custom-designed aesthetic restorations that are placed over teeth to hide signs of spaces and other misalignment concerns, ultimately creating a straighter appearance. If you would like to explore alternatives to traditional braces, Dr. Thompson will be happy to talk more with you during the initial consultation about options that may be ideal for your goals.
How Much Do Braces Cost?
According to estimates from the American Dental Association, the average cost of braces falls in the $4,978 to $6,900 range for adolescents, and in the $5,100 to $7,045 range for adults. It is important to note that the total price of braces is variable among patients based on the type of braces that are placed, the complexity of the concerns being addressed, the estimated length of time for optimal results to be achieved, and other factors. After your customized treatment plan is developed, a member of our dental team will calculate the total cost and answer your questions. Our practice accepts a full range of convenient payment methods, and we work with companies such as CareCredit® and LendingClub®, which offer affordable dental financing plans for qualified applicants.
Would you like to learn more about braces and orthodontic options available at Thompson Center for Dentistry? Please don't hesitate to contact our office for additional information, or to schedule an appointment.