Traditional braces offer an effective way for both adults and adolescents to correct an array of orthodontic conditions and attain a beautiful new smile! Our cosmetic dentist in Chula Vista, Dr. Uyen Thompson, is a member of the American Academy of Clear Aligners and is extensively skilled with orthodontic treatments that can address teeth misalignment, bite irregularities, and other concerns. With advanced braces treatment from Thompson Center for Dentistry, our team can help you straighten your teeth and smile with confidence.
What Concerns Can Braces Treat?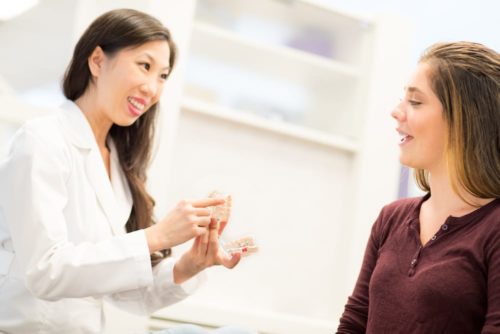 Braces can be an ideal treatment option for an array of mild to severe orthodontic concerns, including:
Spaces and gaps between the teeth
Teeth that are crowded or "bunched up" too close together in certain areas
Teeth that appear "crooked"
Bite irregularities such as overbite, underbite, crossbite, and others
Dr. Thompson can perform an examination of your teeth and oral structures to determine whether braces offer the best option to help you address your concerns. If so, she will create a personalized treatment plan designed to meet your goals.
How Do Braces Work?
Traditional braces utilize a series of brackets and wires to gradually reposition the teeth. A small bracket is affixed to the front of each tooth, and a thin wire is threaded through the brackets. Small elastic bands are often utilized to provide a secure fit between the wires and the brackets. This technique allows the teeth to move into the desired position, ultimately creating better alignment. Braces are designed to reduce open spaces between teeth, create more room between crowded teeth, correct bite irregularities, and generally give the teeth a straighter appearance.
How Long Does Braces Treatment Last?
The length of time that the braces will need to remain on the teeth is highly variable among patients. Some individuals may need to wear them for a period of several months, others may require the braces to stay on for up to three years. The duration of treatment will be based on the severity of the orthodontic concerns and each patient's ultimate goals for treatment. Once you meet with Dr. Thompson for your initial oral evaluation, she can give you a better idea of how long the treatment may take in order to provide you with the best possible results.
How Do I Brush and Floss with Braces?
Daily brushing and flossing with braces is a bit different from what you may be used to; however, once you establish a routine it should be quite easy to maintain your oral hygiene. You may be advised to use a special kind of toothbrush designed for individuals who have braces. Also, there are types of dental floss that are specifically made for orthodontic patients who need to clean the wires connecting the brackets in addition to the areas between their teeth and along the gums. A Waterpik® or other oral irrigation system can also be extremely useful for eliminating food particles and diminishing plaque on the teeth, and an anti-cavity mouthwash that contains fluoride is also advisable.
Before you begin brushing and flossing, it's a good idea to rinse your mouth out with water first. Your oral hygiene routine should be performed a minimum of three times a day—ideally after every meal. We will give you a detailed guideline on how to properly care for your braces so that you are able to maintain excellent oral health throughout the treatment process.
Do Braces Hurt?
After the braces have been initially placed, it can take a bit of time to adjust to them. Some degree of mild discomfort and soreness can be expected for the first several days, and these effects may also be present for a brief period after braces are periodically tightened. Temporary discomfort from braces can often be alleviated with over-the-counter pain medication. A warm salt-water rinse can also be helpful for reducing any temporary swelling or pain caused by braces.
Will I Need to Wear a Retainer After Braces?
The use of a retainer after your braces are removed will likely be recommended. In most cases, the retainer will be removable instead of "fixed" in place on the teeth. Retainers are orthodontic appliances that help maintain the new position of your teeth. Ultimately, retainers are absolutely crucial to ensuring that your teeth will not drift back into misalignment once the braces are taken out. The appliance can be removed while eating, cleaning your teeth, or participating in sports activities that may require the use of a mouthguard. After several months of continuous wear, it may only be necessary to wear the retainer while sleeping. Our dentist will advise you on how often and how long you will need to wear your retainer based on your unique orthodontic needs.
Am I Too Old for Braces?
Age is typically not a factor when it comes to evaluating one's candidacy for braces. In fact, a significant percentage of patients who have braces are adults who have decided to address orthodontic concerns they may have had for their entire lives. Your current state of oral health and the condition of your teeth and bite are the primary areas of focus for our dentist when determining whether braces are right for your needs.
Are There Alternatives to Braces?
For patients who would like to consider other orthodontic treatment options that can be suitable for their needs, Invisalign® may serve as an ideal solution. Invisalign® offers an innovative alternative to braces that can meet many of the same goals but does not require the use of brackets and wires. In fact, Invisalign® uses a system of clear, removable aligners designed to discreetly improve teeth alignment and correct signs of gaps, crowding, and even bite irregularities such as overbite and crossbite. Our practice offers both the standard Invisalign® treatment as well as Invisalign Teen® for adolescent patients. While braces may be a better option for patients who have severe or highly complex orthodontic concerns, Invisalign® can often be very effective for mild to moderate teeth misalignment.
In some cases, porcelain veneers can also serve as a good alternative to braces. Porcelain veneers are custom-designed aesthetic restorations that are placed over teeth to hide signs of spaces and other misalignment concerns, ultimately creating a straighter appearance. If you would like to explore alternatives to traditional braces, Dr. Thompson will be happy to talk more with you during the initial consultation about options that may be ideal for your goals.
How Much Do Braces Cost?
According to estimates from the American Dental Association, the average cost of braces falls in the $4,978 to $6,900 range for adolescents, and in the $5,100 to $7,045 range for adults. It is important to note that the total price of braces is variable among patients based on the type of braces that are placed, the complexity of the concerns being addressed, the estimated length of time for optimal results to be achieved, and other factors. After your customized treatment plan is developed, a member of our dental team will calculate the total cost and answer your questions. Our practice accepts a full range of convenient payment methods, and we work with companies such as CareCredit® and LendingClub®, which offer affordable dental financing plans for qualified applicants.
Does Insurance Cover Braces?
Insurance may cover a portion of the cost for braces if orthodontic treatment is included in the benefits plan. Orthodontic coverage varies for each insurance company as well as each patient's individual policy, so it's best to speak with your provider and review your plan. In general, an individual's estimated out-of-pocket expenses will depend on the amount of coverage, or the percentage of the total cost covered (specific dollar amount, lifetime cap, etc.), any policy restrictions, and if the patient must choose a provider within the insurance company's network.
Once your treatment plan has been developed and an estimate of the total cost is established, the staff at Thompson Center for Dentistry can go over our payment and financing options and explain any potential insurance coverage benefits as they relate to your policy.
Additional Frequently Asked Questions About Braces
How often will I need to have my braces tightened?
Patients typically have scheduled visits for orthodontic maintenance about every four to six weeks, depending on their orthodontic needs. During this visit, our dentist will adjust or tighten your braces, assess the treatment progress, and review overall oral health.
Will braces affect how I speak?
Patients may notice a slight difference in how they pronounce words following the placement of their braces and at times after adjustments are made. This may be the result of mild tenderness, swelling, and sensitivity in the cheeks and gums as the tightening process begins, or in general as the mouth becomes accustomed to the new material on the teeth. Typically, speech should return to normal within a few days to two weeks as the mouth becomes more comfortable and familiar with the braces.
What foods can I eat with braces?
While you can still enjoy many foods in your normal routine, it's important to note that soft and easy-to-chew foods – such as smoothies, pasta, eggs, bananas, yogurt, etc. – are best during your orthodontic treatment. Alternatively, you can cut other foods into smaller bites, so they won't interfere with your braces as you bite and chew. Foods that should be cautiously avoided include any items that are excessively hard, sticky, chewy, or crunchy (ex: crusty bread, caramels, popcorn, or hard candy).
Since braces only cover part of each tooth, it is also beneficial to limit coffee, tea, and red wine as they may discolor/stain the more exposed part of the teeth, as well as sugary drinks like soda that can break down the enamel and cause cavities.
Can you whiten teeth while wearing braces?
Although it is possible to whiten your teeth while wearing braces, it is typically recommended to wait until your treatment is complete. Even with professional-grade teeth whitening systems, the unexposed portions of the teeth that are covered by the braces, and the areas of overlapping teeth that may not have fully shifted yet, may end up having a mismatched color. Following daily oral hygiene care with regular brushing and flossing, along with routine dental cleanings, are best for your overall dental health and managing potential discoloration or staining while the braces are in place.
How do I put wax on braces?
There may be times when the metal wire of traditional braces becomes loose, protrudes, or scratches against your gums or cheeks. Orthodontic wax is an easy, safe, natural solution to help ease this discomfort. Applying and maintaining the wax can be done in just a few simple steps:
Thoroughly brush and floss your teeth
Wash your hands before touching the wax to avoid bacteria and germs
Take a small piece of wax about the size of a pea and knead until it softens
Mold into the shape of a ball and then slightly flatten
Gently apply the wax to completely cover the problem area
Orthodontic wax can be worn for an extended period, such as overnight, but should be replaced at least every two days. While eating and drinking, it is typically best to remove it to avoid the possibility of food getting stuck in the wax. To remove, use floss or an interdental stick to gently lift the wax while taking care of your braces and gums.
Would you like to learn more about braces and orthodontic options available at Thompson Center for Dentistry? Please don't hesitate to contact our office for additional information, or to schedule an appointment.