Some of the most effective dental care involves the kind that can help prevent problems from occurring, or stop a small concern now from turning into a big one later. Thompson Center for Dentistry offers a comprehensive range of general, family, and preventive dental care options to help you maintain the health of your teeth and gums and keep you smiling with confidence for years to come. Our experienced dentist in Chula Vista, Dr. Uyen Thompson, and the skilled dentists and hygienists on her team provide full oral evaluations and utilize some of the latest diagnostic technology to identify issues early and enhance the health of your teeth and gums. At least two dental check-ups each year is the standard recommendation for most individuals, and we make every effort to provide our patients with the most convenient and comfortable experience possible.
Check-Ups and Cleanings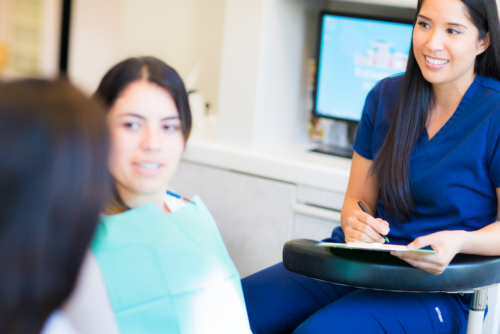 One of the most important steps toward maintaining excellent oral health is to have regular dental check-ups and thorough teeth cleanings. Our practice offers comprehensive oral exams and routine dental cleanings, as well as deep cleanings and fluoride treatments when necessary. Our goal is to identify any potential problems as early as possible and help keep your teeth and gums fresh and healthy. As part of your initial exam, we will take pictures of your oral structures using digital radiography techniques, or "digital x-rays." This is a more precise and convenient way to take a look at your teeth and gums and isolate potential irregularities. Digital x-rays are known to reduce patient exposure to radiation by as much as 90%, and they eliminate the need to use film developing chemicals that can harm the environment. Digital x-rays also make it possible to instantly send the images to insurance companies, allowing for quicker decisions that don't hold up the treatment process. Once they are taken, our dentist can go over them with you on a high-definition monitor and show you crystal clear images of your teeth and gums.
The Hygiene Experience – Dental Cleanings and Prevention
Routine oral hygiene appointments are some of the most popular at our practice. You would be amazed at just how effective a simple, professional dental cleaning can be for preventing the development of major dental problems. Our experienced hygienists perform dental cleanings to help you keep both teeth and gums healthy. These treatments can remove tartar, plaque, and small amounts of tooth decay that can't be reached with a regular toothbrush. Cleanings can also help maintain oral health after periodontal care, root canal therapy, crown placement, bridge work, and many other dental treatments. We understand that the best care of your teeth and gums begins with what we call "The Hygiene Experience," and our team is committed to providing you with a clean, fresh, healthy smile you'll be proud to show off. We place great emphasis on making these procedures as quick, comfortable, and effective as possible. Dental cleanings are typically recommended at least twice annually, and they can usually be performed as part of your regular oral check-up.

We've been to the office twice already, and from the moment we walk in, we are greeted with a warm welcome. My daughter (6 years old) was fearful and nervous before arriving the first time; and everyone did every thing to make her feel comfortable. By the time we left the office- she was more confident and happy and eager to come back again. I am happy that I found such a great dental office, definitely will recommend to family and friends!

Arline Tadeo

January 29, 2019

12345
Children's Dentistry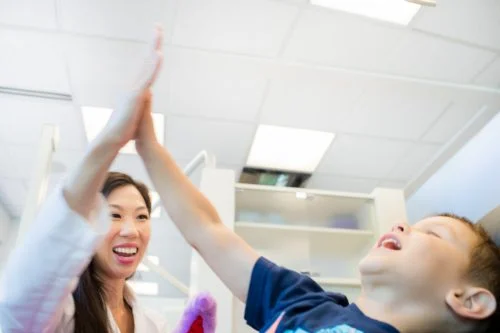 Thompson Center for Dentistry welcomes patients of all ages, including the little ones who are just beginning to develop a full set of teeth! Our team understands that children have unique dental needs, and we are committed to providing them with effective treatment and friendly, compassionate care that works to alleviate any anxieties they have about visiting the dentist. We offer a number of preventive treatments to help protect their teeth from bacteria and decay, as well as conservative treatment to address cavities and child orthodontic options to improve spacing or bite issues they may be experiencing. Our dental team can also provide them with education and guidance on developing good home oral hygiene habits that can help them maintain healthy teeth and gums from childhood to adulthood. We focus on earning the trust of both you and your child and giving them high-quality treatment from gentle, experienced dental professionals.
Oral Cancer Screening
Oral cancer is one of the fastest-growing fatal diseases in America, and it is imperative to identify the signs of it as early as possible. Here at Thompson Center for Dentistry, oral cancer screenings are a routine part of oral exams. It is a quick and painless examination of areas along your gums, tongue, and other soft tissues of the mouth to determine if there are any irregularities. Early detection and treatment of oral cancer can dramatically increase the odds of survival. Remember, oral cancer often does not exhibit any overt signs in its beginning stages, which makes it very important to have regular screenings (at least once each year for those who do not use tobacco products and twice each year for those who do).
Laser Dentistry
There have been many advances in the field of dentistry over the years that have dramatically changed the way we can provide standard dental care, and laser technology is one of them. Laser dentistry allows us to better-perform an array of treatments that used to require patients to sit longer in the dental chair, experience higher levels of discomfort, and make more time in their schedules for recovery. For instance: our team can use laser gum treatment techniques to provide a durable seal between the gums and teeth after a deep cleaning. This can reduce discomfort, bleeding, and the risk of infection. Plus, it can significantly minimize recovery time when compared to previous techniques. Laser dentistry can also be used to remove excess gum tissue for patients who have a "gummy" smile, providing a less invasive way to renew the appearance of the gums. These advanced options can lead to faster healing and reduced swelling after the procedure, not to mention extremely precise treatment and terrific results.
Dental Sealants
The back teeth are particularly susceptible to decay. Dental sealants offer a way to protect these teeth and reduce the chance for cavity development. Our dentist will apply a durable resin material that covers the top and back of the teeth (areas with nooks and crevices that can be very hard for a toothbrush to reach). This "sealant" can ultimately provide years of enhanced protection against cavities for the back teeth and reduce the need for dental fillings later on. Dental sealants have proven very beneficial for many patients, especially children.
Night Guards / Sports Guards
Whether you suffer from bruxism (teeth grinding and clenching) or if you simply want to protect your teeth while engaging in a sport or exercise, customized mouthguards from our practice can help you meet your needs. Night guards can offer a range of benefits while you sleep. This oral appliance is custom-designed to provide you with a comfortable cushion between the upper and lower rows of teeth, helping to prevent grinding at night. Night guards minimize the risk of damage and wear-and-tear on the teeth.
If you are looking for a solution to protecting your teeth from a sudden impact, customized sports guards typically offer an effective barrier. These options are not the one-size-fits-all varieties that you can find at your local store. In fact, they are specifically designed to fit along your teeth as comfortably as possible while shielding your teeth and gums from harm.
Periodontal Care (CAMBRA) – Eliminating Disease
Gum disease is an extraordinarily common condition that afflicts millions of Americans – even those who have excellent oral care habits. The fact is that we are all privy to the development of bacteria and tartar along our teeth and gums, which can lead to severe consequences for both our oral and overall health. Gum disease typically starts as gingivitis, which often causes inflammation, discomfort, and bleeding gums. If this condition isn't addressed immediately, it could lead to severe periodontitis and symptoms including pain, loose teeth, and even tooth loss. Gum disease has also been linked to serious health conditions such as heart attack, stroke, complications in pregnancy, and other major concerns.
Fortunately, treatment for gum disease can address the problem and renew the health of the gums. In many cases, a deep cleaning can remove excessive tartar and calculus build-up in order to reduce bacteria and help the gums obtain a healthier attachment to the teeth.
As part of our practice's overall approach to both periodontal and general dental treatment, we use the CAMBRA philosophy of care, which stands for Caries Management by Risk Assessment. This approach is designed to customize treatment based on the underlying bacterial causes of cavities.
Remember, the earlier the diagnosis and treatment of gum disease the better. If you are diagnosed with gum disease, our dentists and hygienists can talk with you about your periodontal care options and determine the best treatment for your needs.
Learn more about gum disease treatment
If you would like more information on our general and family dental care options, or if you would like to schedule an appointment, please contact Thompson Center for Dentistry today.