What are porcelain veneers?
Porcelain veneers are thin, ceramic shells that are custom-designed to fit over the visible portion of the teeth. This treatment is known for its unique ability to address a wide range of aesthetic and functional dental concerns with results that look natural. With porcelain veneers, Dr. Uyen Thompson and her team of dentists at Thompson Center for Dentistry can significantly enhance the appearance of your teeth and correct common dental problems that may be giving you a feeling of self-consciousness every time you smile.
What are the benefits of porcelain veneers?
Porcelain dental veneers are some of the most popular cosmetic dentistry options available. They can address a comprehensive array of dental imperfections, including:
Chips and cracks
Gaps and spaces
Severe stains and discoloration
Teeth that have become worn-down
Teeth that appear too short
Mild cases of misalignment
Plus, porcelain veneers can last decades with the proper care. When you come to our practice for your initial oral evaluation, one of our dentists will talk with you about your options and determine whether porcelain veneer treatment is ideal for your needs.
What does the porcelain veneers process involve?
Our
Chula Vista cosmetic dentists
strive to make porcelain veneers treatment as conservative as possible. Once the tooth has been prepared, the veneer will then be created. Our office will take an impression of your teeth and send it to a state-of-the-art dental laboratory, which will then produce a customized porcelain veneer designed to provide beautiful, natural-looking results. After the veneer has been created and color-tinted to match the shade of surrounding teeth, our dentist will attach it to the affected tooth with a durable cement and give it a final polish.
Depending upon each patient's unique needs and goals, the entire porcelain veneers treatment process can typically be completed in only two office visits. With the application of a local anesthetic in the treatment area, porcelain veneers procedures do not often create excessive discomfort. With that in mind, we understand that some patients may be a bit more anxious about dental treatment than others; therefore, we offer a variety of advanced
sedation dentistry
techniques that can enhance comfort and reduce anxiety during the procedure.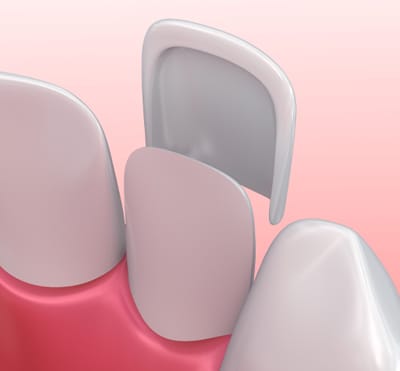 No-Prep Veneers
No-prep veneers, also known as "prepless" veneers, allow us to provide patients with the most conservative veneer treatment possible. These advanced types of veneers typically require little to no removal of the affected tooth. No-prep veneers can also be easier to remove if you decide to treat the concern with a different procedure sometime down the road. As with all of our veneer procedures, no-prep veneers are custom-designed to provide you with the most comfortable and natural fit possible, and they are color-tinted to match surrounding teeth. During your initial consultation, our dentist will determine whether traditional or no-prep veneers will be more ideal for your needs.
How long do porcelain veneers last?
The porcelain veneers available at our practice are designed for exceptionally durable and long-lasting results. With proper at-home dental hygiene routines and regular dental check-ups, porcelain veneers can last decades. It is important to note that consistent and excessive pressure on the veneers should be avoided when possible. Individuals who are prone to grinding and clenching their teeth at night may want to consider an oral nightguard while sleeping so the veneers do not become damaged over time.
Porcelain Veneers Vs. Crowns
Porcelain veneers and dental crowns share many things in common; however, these two treatments are quite distinct from one another in a number of ways. A porcelain veneer is primarily utilized as a cosmetic dental treatment. Custom-designed veneers do not cover the entire tooth; instead, they cover only the front portion. This allows them to enhance dental aesthetics to a significant degree. While porcelain veneers can also be functionally helpful for patients with certain dental conditions, a dental crown is often the preferred treatment for teeth that are affected by excessive damage or decay. Custom dental crowns are designed to cover the entire tooth, rather than just the most visible portion. These restorative options serve to provide structural reinforcement and protection for teeth that have been severely compromised. Crowns can also dramatically improve dental function and the appearance of the teeth, while protecting the teeth from further deterioration. Dental crowns are also utilized as the final step in root canal and dental implant procedures.
Our dentist can determine whether your needs will be better-suited with a porcelain veneer or a dental crown during the initial consultation.
Porcelain Veneers Vs. Lumineers®
Lumineers® are a brand of "no-prep" veneers. They are extremely thin veneers that typically require no modification of the existing tooth structure before they are placed on the affected teeth. Lumineers® are also removable for patients who ultimately decide to revert back to their original smile. By contrast, most porcelain veneer procedures will require removal of at least a slight degree of existing tooth enamel. Unlike Lumineers®, porcelain veneer treatments are not reversible. With this in mind, porcelain veneers are often a more ideal option for patients who have particular needs and goals. Plus, advances in cosmetic dentistry techniques have made it possible to provide very conservative treatment when preparing the tooth for a standard porcelain veneer. Our dentist can explain the differences between porcelain veneers and Lumineers® in further detail during your first appointment and help you decide which of these advanced options is best for your needs.
How much do porcelain veneers cost?
The total cost of porcelain veneers varies depending on each individual's customized treatment plan. Some of the factors that are taken into account include the number of veneers necessary, the location of the teeth being treated, the specific type of veneers that are being placed, and the amount of tooth preparation required before veneer placement. According to recent statistics cited on RealSelf.com, porcelain veneer treatment in the San Diego area ranges between $1,850 and $3,100; however, this is a very general range and may not include all of the factors that go into a patient's treatment program. Once you have met with our dentist and a treatment plan has been created, a member of our staff at Thompson Center for Dentistry will produce an estimate of the total cost and talk with you about payment options. Our dental team believes that every individual should have access to high-quality treatment, which is why we accept an array of payment methods that can provide patients with convenient ways to bring the cost of porcelain veneers treatment into their budget.
Additional Frequently Asked Questions About Porcelain Veneers
Does insurance cover porcelain veneers?
Unfortunately, since porcelain veneers are generally considered a cosmetic procedure, insurance companies typically will not cover them. However, here at Thompson Center for Dentistry, we believe that all patients should have access to high-quality care at an affordable rate. We are happy to accept a range of dental financing and payment options, including installment plans through CareCredit® and LendingClub®, which are trusted third-party healthcare loan services that offer qualified applicants a number of convenient plan selections.
How strong are porcelain veneers?
Porcelain veneers are considered highly durable, and many people find that—with proper care—they can last decades. This is due in part to the composition of the veneers. The high-quality porcelain is thin and natural-looking, but it is also heavily resistant to chips, cracks, and breakage. For patients who have weak or worn teeth, porcelain veneers can add strength and support. However, the longevity of your veneers is dependent on proper maintenance. Brushing, flossing, and regular dental visits are important to maintaining your veneers and your overall oral health. Porcelain veneers are also susceptible to damage from prolonged tooth clenching or grinding. For patients who have a tendency to grind or clench their teeth at night, a custom nightguard can help prevent harm to the veneers while sleeping.
Do porcelain veneers stain?
The high-quality dental porcelain used to craft your veneers is generally stain-resistant, meaning that your veneers can remain the same color for years. However, proper maintenance and regular dental visits are vital to preserving the appearance of your veneers in relation to surrounding teeth. While the veneers themselves are stain-resistant, the surrounding natural teeth are not. It is therefore recommended that patients avoid tobacco products and limit intake of highly-pigmented foods and beverages that, over time, can contribute to discoloration and create an appearance that essentially makes the veneers "stand out" from surrounding teeth.
Can porcelain veneers be whitened?
Porcelain veneers do not respond to whitening treatments, and you should always consult with a dentist before attempting any at-home remedies for discoloration. When your veneers are fabricated, our dentist will carefully match their color and shape to your aesthetic preferences for a beautiful, natural-looking result. In some cases, it may be advisable to undergo a teeth whitening treatment before the veneers are placed in order to give the veneers an exceptional blend with surrounding teeth that already look whiter and healthier.
Are porcelain veneers reversible?
Since the application of traditional porcelain veneers involves removing layers of enamel, the procedure is typically considered non-reversible. However, our dentists are committed to providing you with safe, high-quality, and conservative treatment, and they strive to remove as little enamel as possible while preparing your teeth. This can make future removal or replacement of your veneers easier. For patients who are particularly concerned about the ability to reverse the procedure, low-prep or no-prep veneers generally involve little to no enamel removal prior to placement. Our dentist can help you decide which option best suits your needs during the consultation.
Do porcelain veneers look natural?
Having natural-looking, healthy teeth is one of the main reasons why patients choose porcelain veneers to restore the appearance of their smile. Our goal is to produce exceptional veneers that look virtually indistinguishable from natural teeth. Porcelain veneers are meticulously designed based on the dental impression of your teeth, which provides the blueprint for a customized veneer made of advanced materials that offer the most natural fit and appearance possible.
Do porcelain veneers hurt?
Generally speaking, the porcelain veneers treatment process should not hurt. During your treatment, a local anesthetic is used to prevent any pain. Depending on your level of dental anxiety, you may benefit from sedation dentistry options, as well. After the veneers have been securely placed and the local anesthetic has worn off, you may feel some mild soreness in the treatment area; however, this effect should fade quickly. 
Can I just get one porcelain veneer or will I need a whole set?
Many patients need only a single porcelain veneer to achieve their goals, while others may require a whole set to address concerns affecting multiple teeth. During your initial consultation, our dentist will determine how many porcelain veneers will be necessary to meet your needs. 
Will I have tooth sensitivity after porcelain veneers treatment?
You may experience some mild tooth sensitivity in the days following your porcelain veneers treatment. However, those effects should dissipate relatively quickly as the area heals. Typically, any sensitivity from porcelain veneers treatment ends within about a week of the procedure. 
How do I clean and care for my porcelain veneers?
Cleaning and caring for your porcelain veneers is much like maintaining the hygiene of your natural teeth. It's essential to keep up with brushing, flossing and the overall health of your teeth, including your porcelain veneers. It is also important to continue with your regular visits to the dentist to ensure you maintain optimal oral and dental health.
Are you ready to renew your smile? Please contact Thompson Center for Dentistry for more information on porcelain dental veneers, or to schedule an appointment.