Thompson Center for Dentistry offers one of the most convenient and state-of-the-art techniques for patients who are missing all of their teeth: it's called All-on-4®. This treatment can not only provide a more stable and secure option for dentures, it can also give patients a convenient alternative to other missing teeth replacement procedures. Plus, All-on-4® is known as the "Teeth in a Day" technique, allowing patients to achieve comprehensive teeth replacement in just a single day here at our office.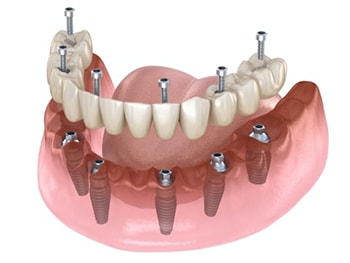 What are the benefits of All-on-4® dental implants?
All-on-4® is a remarkably innovative technique that combines the benefits of dental implants and customized dentures to create exceptional teeth replacement results. Some of the advantages of this procedure include:
Replacement of entire rows of teeth in the upper and/or lower jaw
More stable and secure dentures that are much less likely to move or slip along the gums
Bone grafting is often not required
Artificial teeth that look, feel, and function more like natural teeth
Less limitations on the types of food you can eat
The results can last for decades with the proper care
Enhanced ability to speak, bite, and chew
Reduced likelihood of bone loss
No pastes, putties, or other types of adhesives are required
Normal daily brushing and flossing is often all that's necessary for maintenance
The All-on-4® technique also offers another significant benefit: for many patients, the procedure can be performed in just one day. Our dentist will perform a comprehensive oral evaluation during your initial consultation and determine whether All-on-4® is an ideal treatment for your needs.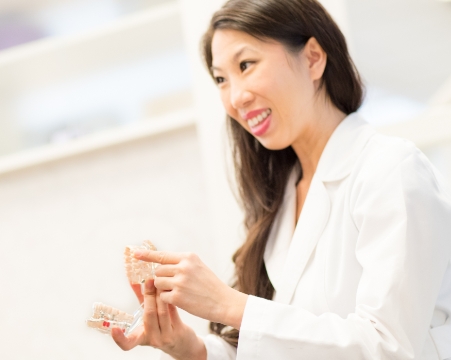 How much do All-on-4® dental implants cost?
The total price of All-on-4® implant dentures is not always the same for each patient. Since the procedure is customized to each individual's needs and goals, the cost of All-on-4® will be dependent on your personalized treatment plan. The cost of your procedure will include factors unique to your treatment plan, such as the total number of implants that are being placed, the overall complexity of the procedure, fees for laboratory work and materials, the price of the custom denture appliance, and other components. Dr. Thompson and our entire team firmly believe that quality dental care should be available to all, regardless of their individual financial situation. This is why we accept numerous payment methods in order to make treatments like All-on-4® as financially viable as possible. A member of our team will create a total cost estimate at your initial consultation and go over it with you. This estimate will include all fees associated with the procedure so that you will have a full picture of what to expect before you have the treatment. We will be happy to answer your questions and talk with you about payment options that can suit your budget.
For more information on All-on-4® Teeth in a Day, or to schedule a consultation, please contact Thompson Center for Dentistry today!