Thompson Center for Dentistry offers one of the most convenient and state-of-the-art techniques for patients who are missing all of their teeth: it's called All-on-4®. This treatment can not only provide a more stable and secure option for dentures, it can also give patients a convenient alternative to other missing teeth replacement procedures. Plus, All-on-4® is known as the "Teeth in a Day" technique, allowing patients to achieve comprehensive teeth replacement in just a single day here at our office.
What is All-on-4®?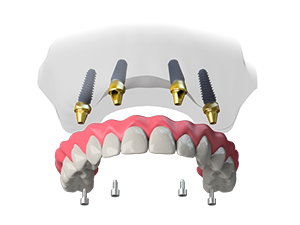 All-on-4® involves the placement of a total of four dental implants on the upper or lower dental arch. A custom-designed denture will then be permanently placed atop the implants, which can provide individuals with a more stable, implant-supported denture that yields full teeth replacement in that area of the jaw. The results should both look and feel more like natural teeth, and should not move or slip along the gums. The All-on-4® procedure can often benefit patients who may not be candidates for missing teeth replacement procedures that utilize full sets of dental implants.
What are the benefits of All-on-4® dental implants?
All-on-4® is a remarkably innovative technique that combines the benefits of dental implants and customized dentures to create exceptional teeth replacement results. Some of the advantages of this procedure include:
Replacement of entire rows of teeth in the upper and/or lower jaw
More stable and secure dentures that are much less likely to move or slip along the gums
Bone grafting is often not required
Artificial teeth that look, feel, and function more like natural teeth
Less limitations on the types of food you can eat
The results can last for decades with the proper care
Enhanced ability to speak, bite, and chew
Reduced likelihood of bone loss
No pastes, putties, or other types of adhesives are required
Normal daily brushing and flossing is often all that's necessary for maintenance
The All-on-4® technique also offers another significant benefit: for many patients, the procedure can be performed in just one day. Our dentist will perform a comprehensive oral evaluation during your initial consultation and determine whether All-on-4® is an ideal treatment for your needs.
What should I expect during the All-on-4® procedure?
After Dr. Uyen Thompson has examined your oral structures and you have both decided that All-on-4® is ideal for your goals, a customized treatment plan will be created. The treatment plan will be based on the results of advanced x-ray imagery, a digital impression, and other components that will help determine the precise location of the implants in order to yield the best possible fit and function for the denture appliance. During the All-on-4® procedure, the dental implants will be carefully inserted through the gum and anchored to the jawbone. A temporary denture can then be affixed to the implants, allowing this "Teeth in a Day" procedure to truly live up to its name. In the ensuing months, the implants should fuse to the bone, essentially becoming artificial tooth roots. Once this process has run its course, the permanent custom-designed denture can be placed, and the procedure is complete.
For some individuals, the All-on-6 variation of this procedure may be necessary to provide the best possible outcome. The All-on-6 technique utilizes the same basic approach as All-on-4®; however, it adds two more implants per arch to provide the foundation for the custom denture. All-on-6 is typically recommended for patients who may need a bit of extra support due to lack of sufficient bone quality or other concerns. Dr. Thompson can determine whether All-on-4® or All-on-6 is the better procedure for your needs during the initial consultation.
The All-on-4® or All-on-6 procedure can be an ideal restorative option for patients who need:
Upper Arch Replacement
All missing teeth on the upper dental arch can be replaced. This can significantly improve speaking and chewing, as well as restore the appearance of one's smile.
Lower Arch Replacement
Replacement of all missing teeth on the lower dental arch can also be very beneficial for chewing and speaking. In addition, lower arch replacement can help to prevent changes in jaw symmetry and facial appearance that can be caused by a full set of missing teeth in this area.
Full Mouth Restoration
For patients who are missing all of their teeth on both the upper and lower dental arches, the All-on-4® or All-on-6 implant denture technique can be performed to produce a comprehensive full mouth restoration.
Learn more about full mouth restoration.
How Do I Clean My All-on-4® Implant Dentures?
One of the many benefits of All-on-4® hybrid dentures is that they can look and function more like natural teeth than traditional dentures. Whereas traditional removable dentures often entail overnight soaks and adhesive pastes, All-on-4® is a more secured fixture within your mouth. This means that your hybrid dental appliance can be cared for in a similar fashion to natural teeth: daily brushing and flossing, along with routine dental visits and cleanings. Good oral health and hygiene practices have proven to be some of the most effective methods of maintaining hybrid dentures.
The longevity of your All-on-4® restoration is largely dependent on proper care and maintenance, and it is always a good idea to maintain your overall oral health. However, there are additional steps that can be taken to further protect your dental appliance. Exercising caution when eating hard or chewy foods can prevent excess strain on the dentures, as can refraining from using your teeth as tools for opening things like packages or bottles. If you routinely grind or clench your teeth, your dentist may recommend wearing a custom nightguard to prevent unnecessary wear on your dental appliance.
How Long Do All-on-4® Implant Dentures Last?
All-on-4® hybrid dentures are considered a long-lasting solution to tooth loss, and they have been known to last for decades with proper care. Brushing and flossing can help you maintain your general periodontal health, and routine dental appointments will allow our dentist to assess the overall condition of your dental appliance. One of the benefits of the All-on-4® technique is that, even in cases where the dental prosthetic needs to be replaced, the existing implants should still be viable. Since the implants are designed to fuse with the jawbone, they should become a permanent part of the mouth. As long as the implant results are successful and jawbone density hasn't significantly deteriorated in later years, any modifications and/or replacements necessary for an implant-supported denture should only impact the actual denture. Thus, additional oral surgery is typically not necessary.
How much do All-on-4® dental implants cost?
The total price of All-on-4® implant dentures is not always the same for each patient. Since the procedure is customized to each individual's needs and goals, the cost of All-on-4® will be dependent on your personalized treatment plan. The cost of your procedure will include factors unique to your treatment plan, such as the total number of implants that are being placed, the overall complexity of the procedure, fees for laboratory work and materials, the price of the custom denture appliance, and other components. Dr. Thompson and our entire team firmly believe that quality dental care should be available to all, regardless of their individual financial situation. This is why we accept numerous payment methods in order to make treatments like All-on-4® as financially viable as possible. A member of our team will create a total cost estimate at your initial consultation and go over it with you. This estimate will include all fees associated with the procedure so that you will have a full picture of what to expect before you have the treatment. We will be happy to answer your questions and talk with you about payment options that can suit your budget.
For more information on All-on-4® Teeth in a Day, or to schedule a consultation, please contact Thompson Center for Dentistry today!