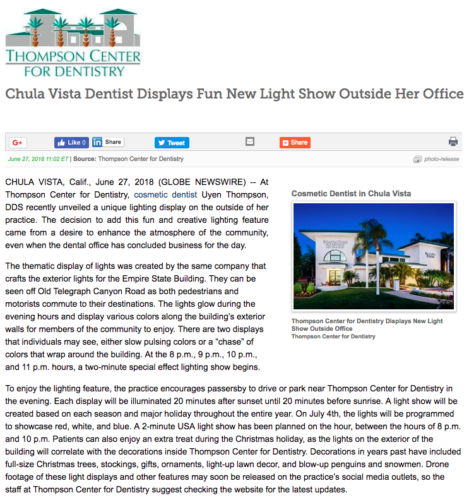 Chula Vista, CA – At Thompson Center for Dentistry, cosmetic dentist Uyen Thompson, DDS recently unveiled a unique lighting display on the outside of her practice. The decision to add this fun and creative lighting feature came from a desire to enhance the atmosphere of the community, even when the dental office has concluded business for the day.
The thematic display of lights was created by the same company that crafts the exterior lights for the Empire State Building. They can be seen off Old Telegraph Canyon Road as both pedestrians and motorists commute to their destinations. The lights glow during the evening hours and display various colors along the building's exterior walls for members of the community to enjoy. There are two displays that individuals may see, either slow pulsing colors or a "chase" of colors that wrap around the building. At the 8 p.m., 9 p.m., 10 p.m., and 11 p.m. hours, a two-minute special effect lighting show begins.
To enjoy the lighting feature, the practice encourages passersby to drive or park near Thompson Center for Dentistry in the evening. Each display will be illuminated 20 minutes after sunset until 20 minutes before sunrise. A light show will be created based on each season and major holiday throughout the entire year. On July 4th, the lights will be programmed to showcase red, white, and blue. A 2-minute USA light show has been planned on the hour, between the hours of 8 p.m. and 10 p.m. Patients can also enjoy an extra treat during the Christmas holiday, as the lights on the exterior of the building will correlate with the decorations inside Thompson Center for Dentistry. Decorations in years past have included full-size Christmas trees, stockings, gifts, ornaments, light-up lawn decor, and blow-up penguins and snowmen. Drone footage of these light displays and other features may soon be released on the practice's social media outlets, so the staff at Thompson Center for Dentistry suggest checking the website for the latest updates.
About Thompson Center for Dentistry
Thompson Center for Dentistry is located in Chula Vista, California and is led by cosmetic dentist Uyen Thompson, DDS. Dr. Thompson is a long-standing member of the American Academy of Cosmetic Dentistry, the Academy of General Dentistry, and the International Congress of Oral Implantologists. She leads a team of dentists and dental professionals who offer a variety of advanced cosmetic, restorative, and family dental care procedures, including orthodontics and other options. Treatments available at the practice include dental implants, Invisalign®, porcelain veneers, general and preventive care, and many other procedures. Dr. Thompson is available for interview by request.
For more information about Thompson Center for Dentistry, please visit thompsoncenterfordentistry.com and facebook.com/ThompsonCenterForDentistry
Contact:
Thompson Center for Dentistry
688 Old Telegraph Canyon Rd.
Chula Vista, CA 91911
(619) 216-2121
Rosemont Media
858-200-0044
www.rosemontmedia.com