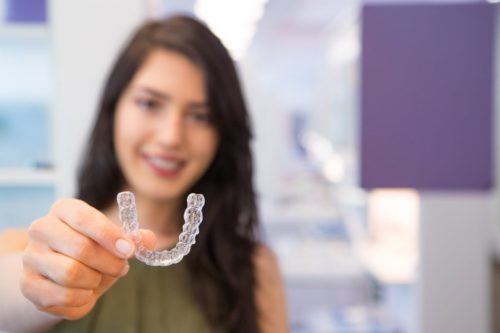 It's never too late to address teeth misalignment and bite issues. Here at Thompson Center for Dentistry, we offer a comprehensive orthodontic treatment program with options for both children and adults. The field of orthodontics has come a long way over the years, with treatments available that can successfully straighten the teeth and correct bite alignment in more comfortable and discreet ways.
More severe cases of teeth crowding and spacing issues can often benefit from traditional braces. This treatment is customized for each patient, depending on their needs and goals. Both adults and adolescent patients who are concerned about the prominent appearance of braces on their teeth can rest easy: our practice offers numerous options, including both clear and ceramic varieties, designed to reduce noticeability of the brackets during the treatment process.
An even more discreet orthodontic option can be obtained with Invisalign®. This treatment can often be ideal for patients who have mild to moderate orthodontic concerns that may not need a full braces treatment to provide the desired results. Invisalign® utilizes no metal brackets or wires at all. The treatment involves a series of plastic, removable teeth aligners designed to gradually move the teeth into proper alignment. The aligners are so clear that they are virtually unnoticeable to others. Our dentists offer both traditional Invisalign® for adults and Invisalign® Teen for adolescent patients.
There are more ways than ever before to correct common orthodontic issues and renew your smile with beautiful results. If you would like to learn more about our orthodontic options, please reach out to Thompson Center for Dentistry today!