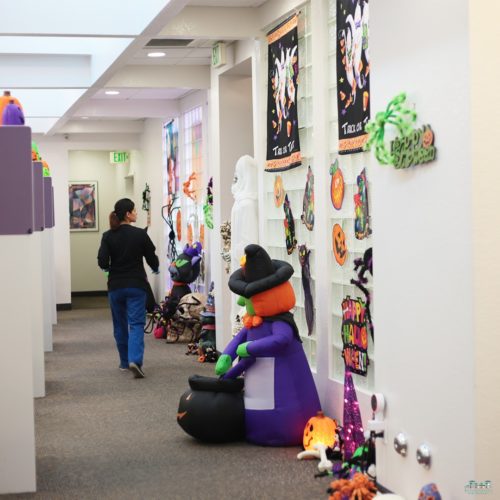 Are you ready for Halloween? Our dentists in Chula Vista and the entire team here at Thompson Center for Dentistry sure are, and we're getting into the "spirit" by putting on an extraordinary new light show outside our office! We've completely re-vamped the décor around our offices to showcase our love for this ghostly holiday, and we would love for you to see it. One of the many ways Thompson Center for Dentistry stands out in our community is the year-round, state-of-the-art light show we present once the sun goes down. The light presentation often changes for major holidays, and Halloween is no exception. In addition to our light display, we go all-out with decorating the inside of our office as well, with plenty of pumpkins, witches, and other fun (and not-too-scary) decorations that bring a smile to the faces of children and adults alike.
So, while you're walking or driving near Old Telegraph Canyon Road, you might see some spooky lights and wandering spirits around our place. But don't worry, they're just as friendly and welcoming as our dental team!
Please feel free to take a look at our Halloween light show—our office is located at 688 Old Telegraph Canyon Road in Chula Vista, and we flip the switch at 8:00 each evening. And if you would like to schedule an appointment for a check-up or one of the many dental treatments available at our practice, please don't hesitate to contact Thompson Center for Dentistry.